It is the text from here.
Kamimachi neighborhood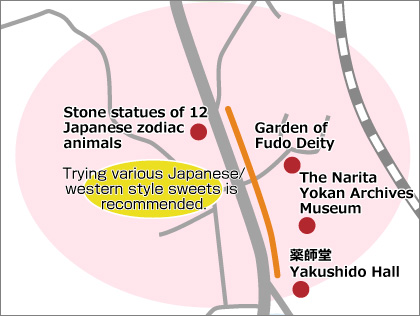 The orderly cityscape that Japanese culture is felt
The Kamimachi district where well-established well-known stores following more than 100 years including "spring warehouseman Takizawa Head Office with long life" "Goto Dangoya" "Nagomi No Yoneya Sohonten" line up. The current orderly cityscape was built up by the effort of local people. Many worshipers who came from all over the world performed rebuilding and the road maintenance of the store so that Japanese culture was felt and built up cityscape comfortable to walk in beautifully.
Stone statue of the lovely twelve signs of the zodiac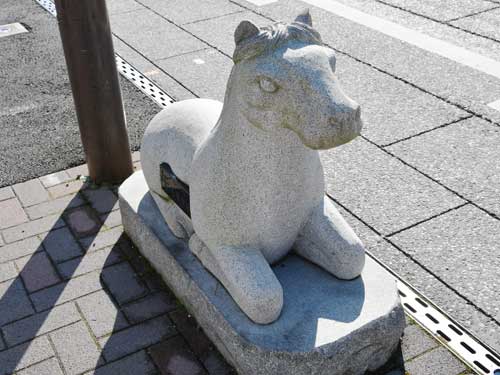 It is noticed that I take a walk through an approach to a shrine in the stone statue of the lovely twelve signs of the zodiac being placed in both sides of the way. In fact, there is the stone statue of the tortoise other than the sexagenary cycle, and the long health of the coming person and thought, "you take a walk through Narita slowly" seem to be loaded with. The stone statue of the twelve signs of the zodiac can be found everywhere of the approach to a shrine only not only Kamimachi. Please look for it in conjunction with own sexagenary cycle.
Japanese and Western sweets are thoroughly enjoyed!
It is this area that shops of the Japanese-Western style sweets pride including a cheesecake and the ice-cream cone made with a handmade dumpling, the peanut of the specialty, the milk of the ranch line up from yokan known as standard of the Naritasan souvenir. "Narita yokan museum" is added to "the Nagomi No Yoneya Sohonten" which is famous for Kuriyokan.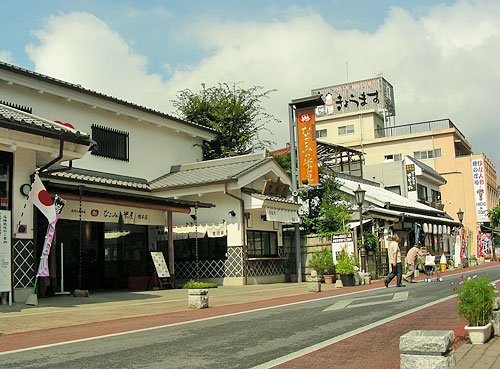 Miraculous water of "the Garden of Fudo Deity"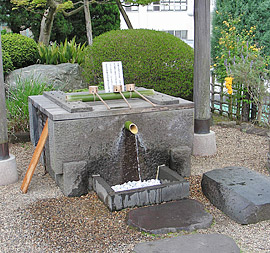 遷座 is a place said to have been had, and, in "the God of the Fire historic site garden" in the "Nagomi No Yoneya Sohonten" site, "Garden of Fudo Deity" has principal idol "Acala" of the Naritasan Shinshoji Temple in the corner of the garden. It is drunk habitually as miraculous water for a long time, and anyone can draw it freely.
Recommended point
The sake brewery is observed in a well-established rice dealer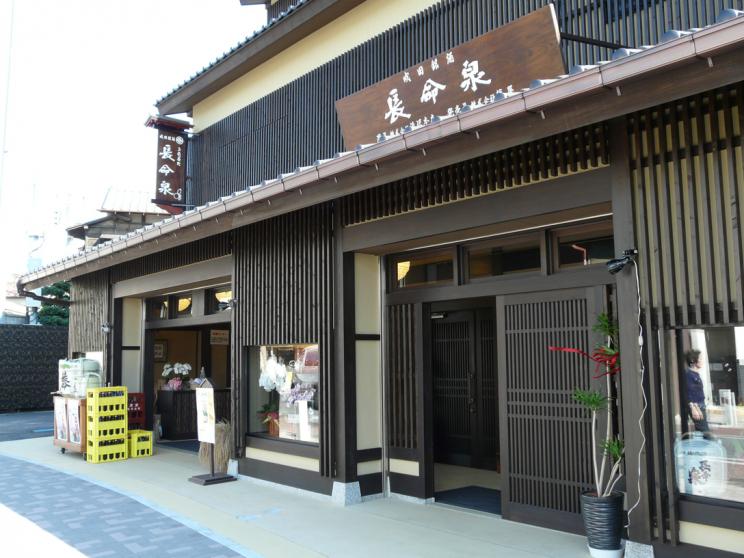 A local brew "spring of Narita that was named because it became the reputation between the prayer visitors who drank the well water of the storehouse saying "a disease was cured" with long life." In the warehousemans, a visit to sake brewery is possible in (from around the end of November to around February) during a period of the sake brewing. I can learn about sake while observing the real process of manufacture, and the sampling can be enjoyed.
List of stores