It is the text from here.

The lantern march by citizen's all of you is carried out
Mt. Narita open basis 1080 anniversary memory size exhibiting a Buddhist image and the Narita International Airport opening of a port 40th anniversary are celebrated, and I have participate in citizen's, and lantern march is performed.
The lantern march starts near Omotesando entrance. Three floats join behind the line halfway and walk to Naritasan Shinshoji Temple Omoto temple.
Ceremony is carried out after the arrival at the main hall of a Buddhist temple while the light of the lantern picks up an approach to a shrine and Naritasan Shinshoji Temple mysteriously. After having done the banzai three cheers by all the participants, there is the display of fireworks.
※Three joining floats are Igodai Miwa society, Hanasaki-cho, Saiwaicho. Kamimachi, Nakanocho, Azumacho, Honcho, Tamachi, Tsuchiya, the float of the Narita Yamako Hokkaido assembly do not work, but are displayed in each place.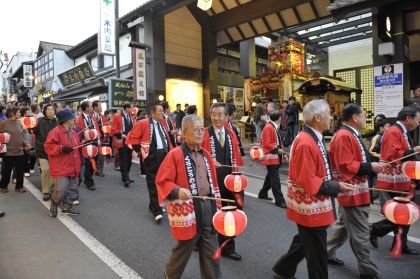 About participation recruitment of celebration citizen size lantern procession
Please participate in celebration citizen size lantern march. Let's parade around an approach to a shrine together.
Date
Friday, April 27, 2018 ※It is canceled in the wild sky
Meeting
(lantern distribution)

The distribution of the lantern is started at 17:30 in municipal first Parking and two places of paths of doctor Misa Domae.

Start

Lantern march is started near the Naritasan Omotesando Street entrance at 18:00. In addition, the person who received a lantern in paths of doctor Misa Domae joins lantern march on the spot and leaves to Naritasan Shinshoji Temple Omoto temple.

The offer staff
A lantern is distributed to the first 2,500 people. (free distribution. After having finished using it, it can be taken to go)
Participation souvenir
The souvenir from a Naritasan Shinshoji Temple state and a Narita International Airport state is handed to all of participation after a line.
At the time of stormy weather

On the day you are informed that I have install the Narita city formula sightseeing information application "FEEL Narita" for the smartphone in the case of cancellation in the wild sky by a notice of push.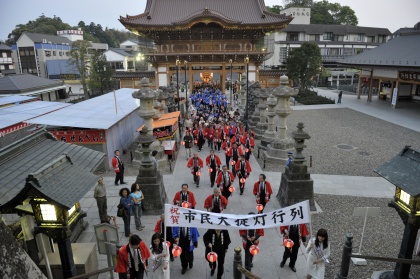 Traffic regulation
The section that is in front of the JR Narita Station - Yakushido Hall - Narita main gate of a Buddhist temple (pan shop corner): From 17:00 to 21:00 traffic regulation
Traffic regulation (External link) is displayed on a big map in FEEL Narita April
※When the link mentioned above is not displayed by the Google map application of the smartphone, please open by a browser.
Inquiry
The Mt. Narita open basis 1080 anniversary memory event executive committee secretariat (general Narita City Tourism Association)
A phone number: 0476-22-2102