It is the text from here.
Let's enjoy Jingisukan in Sanrizuka memory park!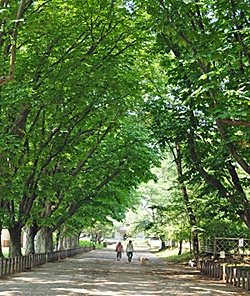 Events enjoying Jingisukan in Sanrizuka memory park on October 9 (celebration, Monday) is held.
I am not known unexpectedly, but Sanrizuka, Narita-shi is said to be the Jingisukan birthplace.
In the early period of Meiji, wool was produced in Sanrizuka, and there was the very large Imperial Household Agency Shimousa Imperial Stock Farm got close to at "a cherry tree and a horse".
A Mongolian mutton barbecue was provided to treat the diplomat of each country which arrived and the family in the Imperial Stock Farm and became the popularity menu of the garden party.
Mutton dishes root in Sanrizuka and come to still look forward to surrounding the Mongolian mutton barbecue at time of the cherry blossom viewing.
It is the park which is full of Nature of a lot of green. When I eat, and I drink, in a feeling of opening only in the outdoors, it is fun♪
In the Shimousa ground related to the Imperial Stock Farm, please appreciate Jingisukan!
A flyer is this! (PDF: 4,104KB)
[the date and time] October 9 (celebration, Monday) from 11:30 to 15:00 (rain out)
[venue] Sanrizuka memory park 1-34, Sanrizukagoryo, Narita-shi
http://www.nrtk.jp/mypage/00179.html
[capacity] 30 sets (it should be the deadline as soon as I become a prior application system, the capacity.)
[entrance fee] I prepare for one one set of 5,000 yen ⇒ clay charcoal stove, meat, vegetables, rice ball, tea break for four.
[the application deadline] Friday, September 29
[Parking] I prepare for each one group.
[nearest bus stop] Sanrizukagoryo (the JR bus Kanto Tako main line)
http://www.jrbuskanto.co.jp/bus_etc/timetable.html (External link)
[application, inquiry] Narita Chamber of Commerce and Industry youth group TEL: 0476-22-2101 (from Monday to Friday from 9:00 to 17:00)
https://www.narita-yeg.org/ (External link)
[sponsorship] Narita Chamber of Commerce and Industry youth group
[support] Narita city, Narita Chamber of Commerce and Industry