It is the text from here.
A Narita Eel Festival elected candidate was decided in 2017
A lottery of the Narita Eel Festival which went from Friday, July 14, 2017 to 45 days on Sunday, August 27 was carried out in Narita Kankokan (Narita Tourist Pavilion) from 11:00 on Sunday, September 17, and 194 elected candidates were decided as a result of fair lottery.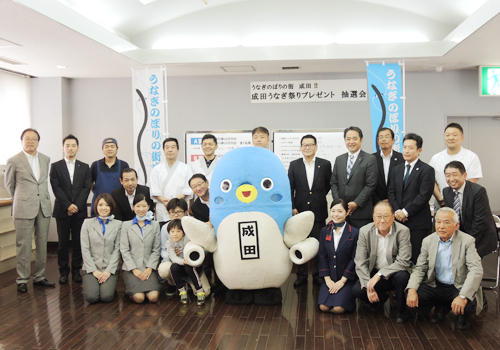 At thirteenth and this time to be, I had 23,250 application from the whole country.
Thank you very much for much application.
Please expect the next Narita Eel Festival.
FEEL Narita 2017 Narita Eel Festival
http://www.nrtk.jp/enjoy/shikisaisai/eel-festival.html
Elected candidate announcement of each prize
A prize B prize C prize D prize E prize Special prize
For trip to A prize ANA ticket 200,000 yen, it is for each one person for trip to JAL ticket 200,000 yen
It is one person for trip to ANA ticket 200,000 yen
Matsuko Kikuchi (Miyagi)
It is one person for trip to JAL ticket 200,000 yen
Shuhei Morita (Chiba)
Around B prize Narita hotel and Japanese inns pair accommodation coupon 16 people
Narita View Hotel prize one person
Hideo Horie (Ibaraki)
Narita Tobu Hotel Airport prize one person
Kazuo Yamanaka (Tokyo)
Hotel Nikko Narita prize one person
Mika Hoshino (Kanagawa)
Narita Airport Rest House prize one person
Atsuko Kajiya (Tokyo)
Radisson Narita Prize one person
Brook てる child (Saitama)
Narita Excel Hotel Tokyu prize one person
Hayama prospers; a state (Chiba)
ANA Crowne Plaza Hotel prize one person
Nakamura net state (Chiba)
Narita U- city hotel prize one person
Yuka Imamura (Chiba)
Hilton Narita prize one person
Junko Matsuyama (Tokyo)
International Garden Hotel Narita prize one person
Yusuke Aoshima (Chiba)
Mercure Narita Airport prize one person
Masayuki Yamada (Chiba)
Toyoko INN Narita Airport prize one person
Daisuke Takahashi (Saitama)
Richmond Hotel Narita prize one person
Hirotaka Tanaka (Chiba)
Marroad International Hotel Narita prize one person
Chie Fukamichi (Chiba)
Center hotel Narita Prize one person
Kazuto Hosoya (Kanagawa)
Ryokan Wakamatsu Honten
Takashi Eshima (Tokyo)
C prize vanilla air, jet star, Spring Japan coming and going pair airline ticket for each one person
Vanilla air prize Narita ⇔ Hakodate Line pair coming and going airline ticket one person
Yuko Kase (Chiba)
Jet star Prize Narita ⇔ Kumamoto pair coming and going airline ticket one person
Yasuyuki Matsukawa (Chiba)
Pair coming and going airline ticket one person available from Spring Japan prize Narita ⇔ Hiroshima, Narita ⇔ Saga, Narita ⇔ Kansai, Narita ⇔ new Chitose
Misuzu Yamazaki (Chiba)
Restaurant meal ticket 69 people of D prize Narita
Charles French Le Tempsdor lunch B course pair meal ticket two people
Keiko Amano (Chiba)
Fujiko Watanabe (Ibaraki)
It is discount coupon ten people for restaurant fisheries center 1,000 yen
Kimura Asako (Chiba)
Miyoko Sasakawa (Chiba)
Ebara product husband (Chiba)
Yasutake Ando (Chiba)
Kunitomo Yamada (Chiba)
Kaori Matsumura (Chiba)
Akiko Hayakawa (Chiba)
Kyoji Tsujita (Chiba)
田﨑 Harumi (Ibaraki)
Teruko Torii (Chiba)
Tachibanazushi うなそば set (mini-unadon, Zaru soba) pair meal ticket two people
Akira Nishimura (Chiba)
Sachiko Komoda (Chiba)
It is meal ticket one person for Edo ッ child Sushi head office 3,000 yen
Yuji Koide (Chiba)
Kikuya domestic production unaju (liver adhering to) pair meal ticket two people
Kazuko Mizuta (Chiba)
Sumiho Niihara (Chiba)
Manpukutei うなそば set pair meal ticket three people
Hideaki Sadamura (Chiba)
Masaya Yaguchi (Tokyo)
Keiko Oguro (Chiba)
Pair meal ticket 12 people common throughout Kawatoyo Honten, Kawatoyo Bekkan, Kawatoyo Nishiguchikan unaju & liver 吸川豊 3 store
Takanori Katsumata (Shizuoka)
Ikuyo Akiba (Chiba)
Tomoko Nakamura (Chiba)
Takeko Chinen (Chiba)
Kazuko Uchiyama (Chiba)
Mihoko Togezaka (Chiba)
Sachiko Murata (Saitama)
Kayoko Sato (Ibaraki)
Momo Someya red state (Ibaraki)
Mitsuko Itakura (Chiba)
Kayoko Miura (Chiba)
Yasunori Konuma (Chiba)
Nisshin An unaju pair meal ticket one person
Mayumi Katsumata (Chiba)
Multi-Tsu beauty bamboo steamer side (udon) and mini-unadon set pair meal ticket two people
Yukiko Sugita (Chiba)
Akihisa Sawada (Chiba)
It is meal ticket two people for Kuninoya 3,000 yen
Hiroshi Matsuda (Ibaraki)
Miwa Sato (Chiba)
Surugaya unaju pair meal ticket ten people
Masashi Arai (Saitama)
Katsunobu Shimizu (Saitama)
Kenji Kawashima (Chiba)
Taketeru Maejima (Chiba)
Mitsuo Nakajo (Chiba)
Atsuko Suzuki (Chiba)
Kyoko Nomoto (Chiba)
Masahiro Kato (Chiba)
Saeko Shinjo (Chiba)
Mitsuko Kuwabara (Chiba)
Ebiya Drive-in prawns bowl + mini-gun-fire Zaru soba set + coffee pair meal ticket five people
Ayano Mizunashi (Chiba)
Yutaro Toyota (Chiba)
Ryusuke Nozawa (Chiba)
Haruyo Yamada (Chiba)
髙橋智久様 (Tokyo)
Mini-set pair meal ticket one person of Watanabe Baiten Zaru soba or hot soba and the unadon
Kyoko Owada (Ibaraki)
Oumiya unadon pair meal ticket two people
Masakatsu Hosoya (Tokyo)
Katsuyo Morisaki (Chiba)
It is meal ticket two people for Japanese-style restaurant brocade valley 3,000 yen
Kazue Ishibashi (Chiba)
髙梨昌治様 (Chiba)
ぱん teahouse ぱん tea dealer Bakery set (for 3,000 yen) one person
Arisa Morigami (Tokyo)
Mihashi unaju meal ticket one person
Tomomi Saito (Saitama)
The Eddie Star Hotel Narita lunch buffet pair meal ticket ten people
Yoko Nakamura (Saitama)
Etsuko Masui (Chiba)
Mai Otani (Chiba)
Yutaka Kobayashi (Chiba)
Daiki Kokubo (Chiba)
Junko Kamoshita (Tokyo)
Masako Komatsu (Ibaraki)
Tadao Asano (Ibaraki)
Hiroko Sato (Chiba)
Sadao Suzuki (Chiba)

Excellent article for sale 75 people of E prize Narita
Peanut のきむらやさやいり 落花生千葉半立 3,000 yen one person
Nobuhide Uno (Chiba)
Hasegawa Gofukuten (Hasegawa Clothing Store) folding fan set two people
Akira Yamada (Chiba)
Bank Kazuko Saki (Chiba)
It is trial two people for Shimoda Kouseidou medicine manufacture real Chinese medicine 7,000 yen
Aiko Yanagidate (Saitama)
Masako Inobe (Kanagawa)
Joint-stock company Naruge shop earthenware shop sake bottle and cup set (with one large sake bottle, two cups) three people
Hitoshi Kohata (Tokyo)
Haruko Ohara (Tokyo)
Minami, Adachi (Chiba)
Wako Bussan firm growl drawstring purse & Kitty hand towel three people
Michiko Muramatsu (Chiba)
Hiroshi Kawashima (Chiba)
Spare Imazeki; child (Chiba)
Ishikawa Bussan hinoki measure set (1 sho, 5 go, 1 go) three people
Tetsuya Tanaka (Tokyo)
Kaoru Murozono (Ibaraki)
Kunio Jinno (Saitama)
Rice dealer ぴーなっつ middle 24 filling five people
Yasuhiro Kojika (Tokyo)
Nobuhiro Tobari (Tokyo)
Yasuhiro Kodera (Chiba)
Tomohisa Hashimoto (Tokyo)
Yasuharu Kuboshima (Tokyo)
Treasuring (D) two people soaked in a Takasho Honten gun
Kazunori Nakajima (Tokyo)
Mitsufumi Onuma (Fukushima)
Japanese yen "crane" of souvenir shop main office Sabonsama good luck (face-wash soap) five people
Soichiro Fujikawa (Tokyo)
Machi Asada (Kanagawa)
Tatsuya Ando (Chiba)
Teruo Kuroki (Saitama)
Atsushi Uchiyama supporting state (Chiba)
Assorted Yonebun choices one person
Keiko Kimura (Chiba)
Assorted Takahashi fisheries foods boiled down in soy seven people
Hiromi Ishidoya (Tokyo)
Minoru Ito (Saitama)
Ryoichi Ohashi (Ibaraki)
Junko Tomioka (Okayama)
Yoshimi Yoshida (Tokyo)
Takae Kasai (Chiba)
Mayumi Yasuda (Chiba)
Narita Yume Bokujo (Narita Dream Dairy Farm) ranch original ice small cup 12 set three people
Akihiro Tachibana (Kanagawa)
River Tomiko Saki (Chiba)
Misako Hosoi (Saitama)
Three people with Japan Airport Terminal Narita Office Tokyo カンパネラ 20 pieces
Kenji Kikutake (Ibaraki)
Hiroko Okada (Chiba)
Ai Nakanishi (Kagawa)
Assorted Tomura store Peanuts three people from Chiba
Akiko Asami (Saitama)
Motoko Ikuta (Chiba)
Kiyoshi Ogura (Chiba)
720 ml of wisteria shop Narita miraculous water, brewing sake from the finest rice pure mijiu 720 ml five people
Haruhiko Uruno (Chiba)
Yoshio Matsunaga (Chiba)
Takumi Nishikawa (Hyogo)
Kiuchi Yuki (Chiba)
Tatsuya Yamauchi (Chiba)
Miyata Parking Lot みやた store souvenir set three people
Yaeko Yagishita (Kanagawa)
Midori Tanaka (Kanagawa)
Sayoko Hatakeyama (Chiba)
Assorted Sawada Pickles Pickles five people
Naoko Inanobe (Chiba)
Kumi Kashiwabara (Tokyo)
Sumie Takei (Tokyo)
Masaaki Matsumoto (Hyogo)
Katsuyoshi Iriya (Kagawa)
Grated radish double tooth (ogre lowering) 17 tooth and saucer (hang) set three people made of bamboo, tree, canework Fujikura store bamboo
髙橋修治様 (Chiba)
Yukinori Sakamaki (Tokyo)
Atsunari Okada (Chiba)
Warehouseman Food and drink pan shop source five gate-guard office size brewing sake from the finest rice Hanayama water growl label & large brewing sake from the finest rice Hanayama water liquor cake set three people
Katsue Yoshida (Saitama)
Iijima British four state (Tokyo)
Shino Yuriko Saki (Chiba)
; is three soldier of the Imperial Guard Freshwater eel liver boiled in soy set two people again
Chieko Noguchi (Kanagawa)
Ryushi Masuda (Chiba)
Assorted Kawamura Saheiji Shoten Pickles three people
Asami pure state (Chiba)
Toyoji Narushima (Chiba)
Sachi Kihara Tadashi (Chiba)
Souvenir set five people of the Surukan popularity
Hiroshi Ida (Tokyo)
Yasuko Kitagawa (Chiba)
Mie Ito (Yamagata)
Sachiko Ishida (Fukushima)
Chihiro Miyake (Chiba)
Assorted Narita Yanagiya Honten willow shop yokan three people
Akira Mochizuki (Ibaraki)
Ayako Morizumi (Chiba)
Akie Kawachi (Chiba)
Narita Japanese inns hotel association 10,000 yen coupon one person
Hisako Tamura (Chiba)
Narita HUMAX Cinemas pair theater "フタリウム" pair complimentary ticket one person
Yoshiharu Honda (Tokyo)
Assorted Narita International Airport NAA goods five people
Virtue Takako (Kanagawa)
Ikuko Miwa (Chiba)
Satoshi Abe (Tokyo)
Chika Ishihara (Chiba)
Ryota Konishi (Chiba)
AEON MALL Narita ion gift certificate (for 3,000 yen) five people
Shinsuke Sato (Chiba)
A Mino part sheath or state (Tokyo)
Shotaro Enomoto (Saitama)
Kentaro Hattori (Tokyo)
Shimada Mizuki (Chiba)
SHISUI PREMIUM OUTLETS gift certificate (for 2,000 yen) five people
Yasushi Kitada religion state (Ibaraki)
Makoto Nakano (Ibaraki)
髙嶋亮介様 (Chiba)
Mikiko Murakoshi (Tokyo)
髙田隆男様 (Saitama)
Lakewood Sosei Country Club golf ball one dozen one person
Kiyomi Konishi (Ibaraki)
Village pair complimentary ticket ten people of the Shisui Hot springs hot water comfort
Ryoichi Ichihara (Chiba)
Takeshi Iizuka next state (Chiba)
Saito Fumi (Chiba)
Mayumi Honda (Kanagawa)
Yumiko Endo (Tokyo)
Tomoka Iwasaki (Kanagawa)
Taeko An (Ibaraki)
Shigeru Morizoe (Chiba)
Keigo Yamada (Chiba)
Mika Matano (Chiba)
Ishikawa auto industry car, light car oil exchange ticket one person
Makio Gunji (Chiba)