It is the text from here.
A Narita Eel Festival elected candidate was decided in 2018
A lottery of the Narita Eel Festival which went from Friday, July 13, 2018 to 45 days of Sunday, August 26 was carried out in Narita Kankokan (Narita Tourist Pavilion) from 14:00 on Thursday, September 20, and 201 elected candidates were decided as a result of fair lottery.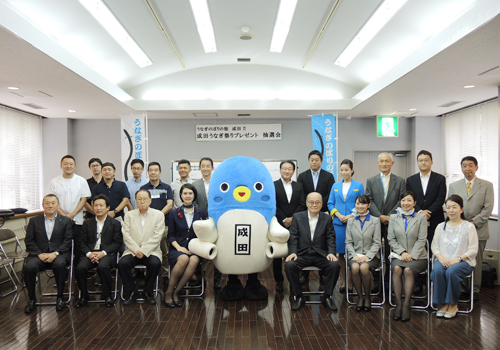 At 14th and this time to be, I had 22,985 application from the whole country.
Thank you very much for much application.
Please expect the next Narita Eel Festival.
FEEL Narita 2018 Narita Eel Festival
http://www.nrtk.jp/enjoy/shikisaisai/eel-festival.html
Elected candidate announcement of each prize
A prize B prize C prize D prize E prize Special prize
For A prize ANA travel coupon 200,000 yen, it is for each one person for JAL travel coupon 200,000 yen
It is one person for ANA travel coupon 200,000 yen
Hiroko Shiratori (Chiba)
It is one person for JAL travel coupon 200,000 yen
Satoko Fukuyama (Chiba)
Around B prize Narita hotel and Japanese inns pair accommodation coupon 11 people
Narita View Hotel prize one person
Takashi Oda (Tokyo)
Hotel Nikko Narita prize one person
Tomoki Tsunoda (Yamanashi)
Narita Airport Rest House prize one person
Ebihara studies state (Ibaraki)
ANA Crowne Plaza Hotel prize one person
Hitomi Sakuma (Chiba)
Narita U- city hotel prize one person
Akemi Saito (Chiba)
Hilton Narita prize one person
Noriko Omori (Chiba)
International Garden Hotel Narita prize one person
Masahito Aoyama (Chiba)
ホテルウェルコ Narita Prize one person
Toshie Miyauchi (Chiba)
Marroad International Hotel Narita prize one person
Reiko Shimizu (Tokyo)
Ryokan Wakamatsu Honten
Kiyoko Kakinuma (Saitama)
Center hotel Narita Prize one person
Satoshi Kimura (Chiba)
C prize vanilla air, jet star, Spring Japan (Spring Airlines Japan, Inc.) pair coming and going airline ticket for each one person departing from and arriving at Narita Airport
Vanilla air prize Narita International Airport departure and arrival pair coming and going airline ticket (vanilla air-designated section) one person
Reo Kondo (Kanagawa)
Jet star Prize Narita ⇔ Nagasaki pair coming and going airline ticket one person
Mayumi Udo (Tokyo)
Domestic airline pair coming and going airline ticket one person of the Spring Japan prize Narita International Airport departure and arrival
Kenji Kanitani (Chiba)
Restaurant meal ticket 76 people of D prize Narita
Multi-Tsu beauty bamboo steamer side (udon) and mini-unadon set pair meal ticket two people
Kunio Kadoi (Chiba)
Kazuo Kondo (Kanagawa)
Charles French Le Tempsdor lunch B course pair meal ticket two people
Mariko Iida (Chiba)
Yuko Hagiwara (Chiba)
It is discount coupon ten people for restaurant fisheries center 1,000 yen
Shoji Ozasa (Chiba)
Hirokazu Udagawa (Tokyo)
Mieko Kimura (Chiba)
Kazuo Kimura (Chiba)
Tadashi Sakuma (Chiba)
髙橋佳子様 (Saitama)
Takeo Kawamata (Chiba)
髙野正太郎様 (Chiba)
Eiko Yamamoto (Chiba)
Nobuyuki Iijima (Ibaraki)
Tachibanazushi うなそば set (mini-unadon, Zaru soba) pair meal ticket two people
Katsuya Fujishiro (Chiba)
Mieko Orito (Chiba)
Kawatoyo Honten, Kawatoyo Bekkan unaju & liver 吸 pair meal ticket 12 people
Katsuko Namikoshi (Chiba)
Emiko Kimura (Chiba)
Takuji Aikawa (Chiba)
Kaori Azuma (Chiba)
Kazuko Ono (Saitama)
When is a new slope; a state (Saitama)
Fusako Togo (Chiba)
Masako Toyoshima (Chiba)
Maeda order city (Chiba)
Child going to Suzuki (Chiba)
Mayumi Kobayashi (Ibaraki)
大古健命様 (Ibaraki)
It is unaju meal ticket three people in Kawatoyo Nishiguchikan
Yuiko Kawase (Chiba)
Shunta Ohira (Ibaraki)
Tateishi second son (Chiba)
Kikuya unaju (with soup) pair meal ticket two people
Fumiko Orikawa (Chiba)
Katsue Niwa (Kanagawa)
Freshwater eel Shinkawa Head Office new Kawasaki Heavy Industries (pine) pair meal ticket five people
Miaya Batori (Chiba)
Masaaki Hashimoto (Tokyo)
Reiko Origasa (Chiba)
Sachiko Hattori (Tokyo)
Kazuo Fukahori (Chiba)
Freshwater eel Shinkawa AEON TOWN Nairta Tomisato shop new Kawasaki Heavy Industries (pine) pair meal ticket five people
Tatsuo Sasaki (Saitama)
Yusuke Matsuki (Chiba)
Yu Hagimori (Chiba)
Kumi Masubuchi (Ibaraki)
Minoru Fujiwara (Chiba)
Surugaya unaju pair meal ticket seven people
Yagi Yonekura (Chiba)
Tsutomu Fukuda (Chiba)
Yumi Ishii (Chiba)
Yoshiko Miura (Chiba)
Tomoki Minegishi (Ibaraki)
Hide Morita (Tokyo)
Masaki Akita (Tokyo)
ぱん teahouse ぱん tea dealer Bakery set (for 3,000 yen) one person
Yumi Yoshida (Chiba)
The Eddie Star Hotel Narita restaurant せらぎ lunch buffet pair meal ticket three people
Takako Goino (Chiba)
Yukihisa Maeno (Chiba)
Ittetsu Numajiri (Ibaraki)
; is unaju two people of the soldier of the Imperial Guard boat-shaped thing shop again
Toshiaki Torii (Chiba)
Masayoshi Hori (Chiba)
It is meal ticket one person for Edo ッ child Sushi head office 3,000 yen
堀内継由様 (Chiba)
Ebiya Drive-in prawns bowl + mini-gun-fire Zaru soba set pair meal ticket five people
Masayuki Terayama (Chiba)
Junichiro Kubota (Chiba)
Nobuyuki Tokita (Chiba)
Yasuhiko Takeyama (Chiba)
Takamura Satoko (Chiba)
It is meal ticket two people for Kuninoya 3,000 yen
Rie Nagahama (Ibaraki)
Fujii Satoko (Chiba)
Oumiya unadon pair meal ticket two people
Terai pear Yui (Chiba)
Harumi Nakamura (Chiba)
Set pair meal ticket one person of the Watanabe Baiten Zaru soba (colander udon) とうなじそ mini-bowl
Yoshiko Tsuzukibashi (Chiba)
Manpukutei うなそば set pair meal ticket three people
Satoru Harada (Chiba)
Hajime Tanaka (Kanagawa)
Rock Hidetaka Saki (Chiba)
Mihashi unaju meal ticket one person
Ayako Shibata (Tokyo)
Nisshin An unaju pair meal ticket one person
Naoki Ikenobe (Chiba)
It is meal ticket two people for Japanese-style restaurant brocade valley 5,000 yen
Long Mitsuo Saki (Chiba)
The Takehana beginning state (Chiba)
Narita Tobu Hotel Airport pair lunch ticket (restaurant "oasis" lunch buffet) one person
Haruka Kobayashi (Chiba)
Radisson Narita pair dinner ticket one person
Aya Shirai (Chiba)
Specialty 80 people of E prize Narita
Joint-stock company Naruge shop earthenware shop sake bottle and cup set (with one large sake bottle, two cups) three people
Mikina Okamoto (Chiba)
Kazue Suzuki (Kanagawa)
Sadayoshi Hara (Tokyo)
Yonebun Japanese confectionery assortment fold ((life) chestnut steaming yokan, chestnut grain and others, Rice crackers) one person
Kiyotaka Harada (Saitama)
Wako Bussan firm growl gradation drawstring purse & tie set five people
Fukiko Mato (Tokyo)
Akira Shimizu (Tokyo)
Akari Hayakawa (Chiba)
Takashi Hidema (Chiba)
Asami Kato (Tokyo)
特上千葉半立使用 (*2 300 g) one person proud of the taste of peanut のきむらやさやいり Peanuts old days
Masaaki Ono (Tokyo)
Ishikawa Bussan Shippo epergne (鉄仙) two people
Yoko Takahara (Tokyo)
髙橋裕子様 (Nagano)
720 ml of wisteria shop Narita miraculous water, brewing sake from the finest rice pure mijiu 720 ml five people
Takiko Takasu (Ibaraki)
Michiko Tarumi (Ibaraki)
Kiyoshi Kameda (Tochigi)
Kyoko Suzawa (Saitama)
Forest Wataru (Chiba)
Treasuring (D) two people soaked in a Takasho Honten gun
Ten thousand Hiroko Saki (Chiba)
Akiko Aizawa (Kanagawa)
Oguraya Pickles one person
Yasuo Suzuki (Chiba)
Rice dealer ぴーなっつ middle 24 filling five people
History of Toyama high state (Osaka)
Ryoichi Tsuruoka (Chiba)
Green to go out of power (Chiba)
Hiroshi Nakamura (Chiba)
Fumiko Morino (Chiba)
Warehouseman Food and drink pan shop source five gate-guard office size brewing sake from the finest rice Hanayama water growl label & large brewing sake from the finest rice Hanayama water liquor cake set three people
Tetsuji Koiwa (Hokkaido)
Rieko Nakamoto (Chiba)
Chiyoko Iwaki (Chiba)
Narita Yume Bokujo (Narita Dream Dairy Farm) ranch original ice small cup 12 set three people
Ko Iijima Riho (Kanagawa)
Kimie Koide (Chiba)
Mie Yamamoto (Kanagawa)
Assorted Narita Yanagiya Honten willow shop yokan three people
Akihiro Yamamoto (Chiba)
Shion Wakamiya (Chiba)
Hiroko Shimizu (Chiba)
; is dish simmered in helmet and candied fish two colors two people of the soldier of the Imperial Guard Freshwater eel again
Yusuke Shimizu (Tokyo)
Kazufumi Omori (Tokyo)
Private elementary school of the Edo period Narita Yuzen couple chopsticks set three people
Kanako Kasahara (Tokyo)
Osamu Kurihara (Tokyo)
Island Mikoto Saki (Saitama)
The village sesame of the greens flower is not blackened; is set three people of ピーナッツラングドシャ sizzlingly
Akiko Ikeda (Saitama)
Haruko Shinozaki (Saitama)
Kiko Sato (Saitama)
Grated radish W tooth (ogre lowering) 17 tooth and saucer (hang) set three people made of Fujikura store bamboo
Naoto Taniguchi (Chiba)
Akira Fukushima (Chiba)
Ikeda Kiyoko (Ibaraki)
Hold Hasegawa Gofukuten (Hasegawa Clothing Store) [for the man] 印傳 pass case [for the woman] folding fan, folding fan; set two people
Tomomi Mochizuki (Chiba)
Yuji Oshigami (Kanagawa)
Miyata Parking Lot みやた store souvenir set three people
Kazuko Kusumoto (Wakayama)
Cheng 灵 (Kanagawa)
Like three, and is; child (Chiba)
Assorted Kawamura Saheiji Shoten Pickles three people
Natsuki Yamada (Tokyo)
Takanori Suzuki (Chiba)
Motoko Shimokawatoko (Chiba)
Assorted Sawada Pickles Pickles five people
Consider it to be Misono; child (Tokyo)
Koji Ogura (Chiba)
Kayoko Tsukagoshi (Chiba)
Ryuta Hattori (Hokkaido)
髙橋佐和子様 (Saitama)
Assorted Takahashi fisheries foods boiled down in soy seven people
Kayoko Tanabe (Tokyo)
Yumiko Yamaji (Chiba)
Mariko Motoyoshi (Chiba)
Shogo Kakeda (Ibaraki)
Masataka Suga (Ibaraki)
Sho Mano (Chiba)
Naoko Taniguchi (Osaka)
Souvenir set five people of the Surukan popularity
Kazuo Moriya (Kanagawa)
Keiko Yamawaki (Kagoshima)
Kumiko Nakagawa (Chiba)
Hideki Takahashi (Tokyo)
Shu Kitano (Tokyo)
Japanese yen "tortoise" of souvenir shop main office Sabonsama good luck (かぼすの fragrance) ten people
Fumiko Kobayashi (Chiba)
Yoichi Nakamura (Osaka)
Noriko Yamamoto (Chiba)
Katsuji Murakami (Kanagawa)
Mitsuo Kikuchi (Tochigi)
Toshio Shibuya (Chiba)
Hisako Tamatsukuri (Ibaraki)
Kotomi Teguramori (Chiba)
Risa Okuda (Hiroshima)
Norihiko Yoshizawa (Gunma)
Special prize 29 people
Assorted Narita International Airport NAA goods five people
Hitoe Kawaji (Chiba)
Wisteria Toshio Saki (Chiba)
Kazunori Hirata (Chiba)
Masao Kato (Chiba)
Yoko Terada (Kanagawa)
Lakewood Sosei Country Club golf ball one dozen one person
髙木正子様 (Ibaraki)
Ishikawa auto industry car, light car oil exchange ticket one person
Naoya Kume (Chiba)
Narita HUMAX Cinemas pair theater "フタリウム" pair complimentary ticket one person
Keiko Fujisawa (Chiba)
Narita Japanese inns hotel association 10,000 yen coupon one person
Takayuki Kazama Yu (Chiba)
SHISUI PREMIUM OUTLETS gift certificate (for 2,000 yen) five people
Shotaro Suzuki (Ibaraki)
Yuta Takahashi (Chiba)
Norimasa Miida (Chiba)
Michiyo Kawaguchi (Aichi)
Consider it to be Usui; child (Ibaraki)
Village pair complimentary ticket ten people of the Shisui Hot springs hot water comfort
Mitsue Maruyama (Tochigi)
Akira Nishimura (Chiba)
Yukiko Suzuki (Chiba)
Junko Murota (Chiba)
Wakako Yamaguchi (Chiba)
Akemi Watanabe (Chiba)
Ryuzo Inoue (Tokyo)
Ishihara existence other people (Hyogo)
Maya Yamada (Aichi)
Etsuko Ono (Chiba)
AEON MALL Narita ion gift certificate (for 3,000 yen) five people
Mayu Yamaguchi (Chiba)
Tadashi Kanno (Chiba)
Hiroko Ikeda (Tokyo)
髙田裕介様 (Chiba)
Otake man of virtue (Chiba)