It is the text from here.
SHISUI PREMIUM OUTLETS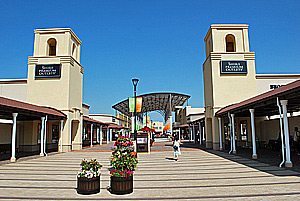 "The SHISUI PREMIUM OUTLETS" that domestic and foreign many brands shops gathered opened on April 19, 2013.
In the outlet that Mitsubishi Estate, Simon runs, it is one of the best large Shopping facilities in the prefecture with 213 stores.
In "the town" which imaged the suburbs of the United States, a parasol is placed in the large passage, and a feeling of opening is plentiful.
As clothing, tableware, a food court, food are turned off for a category roughly, for each area, I am easy to do shopping.
The outlet features that プランド products are value prices although there are many old models and can buy stocks!
It is pleasant to find a lucky find♪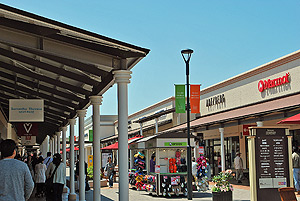 Popular shops assemble in full force in a row!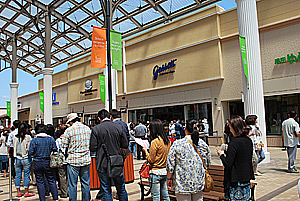 There is the item to be able to buy only here♪

The thing which is delicious in the big food court in a row!
A favorite menu is ordered in friends in families, and please enjoy a meal feeling free to contact us.
There is the restaurant giving the menu using local ingredients.
The ice-cream cone that the dude ranch "Narita Yume Bokujo (Narita Dream Dairy Farm)" in the Narita city was made using the fresh milk of the ranch is popular.
The peanut software sundae which had topping of a peanut source from Chiba to yogurt and the ice-cream cone of the ranch is an SHISUI PREMIUM OUTLETS-limited sweet.
Yogurt and milk of the ranch pride proud of the history of 130 years.
Sweets or the bread which were made from fresh milk. There is the homemade article only in the ranch.
Please compare by eating with a commercial thing.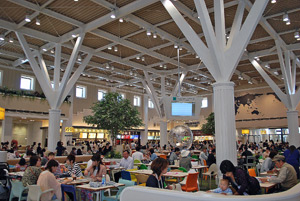 A delicious thing is ズラ ... re.
What shall be eaten? At a loss.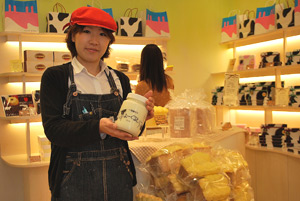 Under delicious sweets dispatch of Chiba!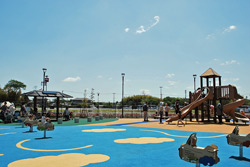 An amusement place, the playground with a slide and the playground equipment are quite popular with children.
In the middle of shopping, let's play well at ease!
With sweets and coffee, I break through a little.
If a throat is quenched with ググッ, please enjoy window-shopping.
The SHISUI PREMIUM OUTLETS as for the access easily.
If Higashi Kanto Expressway Shisui Interchange is used, it is about ten minutes from about 50 minutes, Narita Airport from the downtown area.
A bus linking the outlet to Narita Airport is operated every about 30 minutes.
In addition, it is about 15 minutes by car from the Narita city. Going straight buses from Keisei-Shisui Station, JR Shisui Station to "SHISUI PREMIUM OUTLETS" are operated.
After having had prayer of Naritasan Shinshoji Temple, I do shopping in an outlet♪
Representative spot and Shopping of sightseeing in Narita can be enjoyed in addition.
The service for customers of the foreigner from Narita Airport is satisfying, too.
The staff corresponding to English and Chinese welcomes all of you at the information center and does it attached to the Japanese first foreign currency Money exchange (the Keiyo Bank) as an outlet. Furthermore, English, Chinese, the guide map of Korean are prepared for, too.
In addition, targeting at foreign tourists, public wireless LAN is offered free.
Furthermore, there is the big locker (pay) for suitcase, too.
There is the world clock on a big terrestrial globe and a monitor, the wall of the Narita Airport flight information, too, and the food court center can taste the atmosphere of the airport, too.
At the Narita International Airport information corner, information about Narita Airport is provided. As the flight schedule can be checked, how about enjoying a time in the outlet during until airplane departure?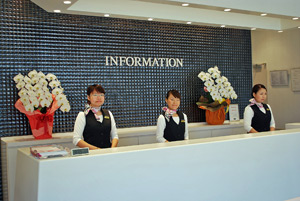 Possibility Chinese-response in the information center English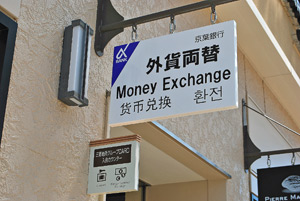 There is the foreign currency Money exchange, too and is very convenient!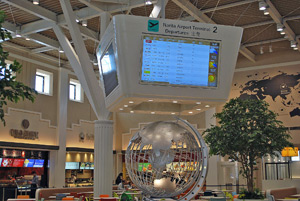 The food court has a flight schedule monitor of Narita Airport.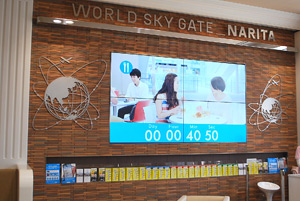 Narita Airport information corner.
[access]
An "SHISUI PREMIUM OUTLETS" route bus runs from JR, Keisei-Shisui Station. (about from 15 minutes to 18 minutes)
An outlet shuttle bus runs from Narita International Airport. (about 15 minutes)
SHISUI PREMIUM OUTLETS
Shisui Hot Springs Yuranosato
"A village of the Shisui Hot springs hot water comfort" opened Hot springs facilities with the opening-like Outdoor baths close to SHISUI PREMIUM OUTLETS.
As for "hot water of source Takami", 恵多 which gushed out comes to this earth after eternal time, and a fine view open-air bath overlooking the rural scenery of Shisui under my nose is a natural hot spring.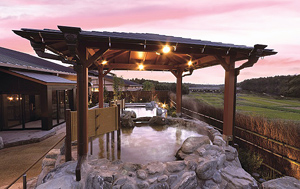 This Hot springs can enjoy Scenery full of the delicacy appropriate for village of famous clear water "Shisui" commencing with a spring quality with a superior effect relaxedly.
A "よう-containing bare - sodium - chloride strong saline" domestic top-class iodide ion is included in the spring quality, and it is said that action to lower blood pressure is strong.
It is the facilities which are slow for one day seasonally while seeing scenery to be able to enjoy. A restaurant and a body care dirt pickpocket, the authentic beauty treatment salon are done, and a game corner and 2,000 comic books are prepared.
Healing and a day of peace become had by a refreshing Hot springs bath not to be able to taste elsewhere at all at "the village of the Shisui Hot springs hot water comfort" full of feelings of freedom, and how?
Shisui Hot Springs Yuranosato
http://www.nrtk.jp/mypage/00442.html
To "Chiba Prefectural Boso-no-Mura (Boso Village)" ← [the highlight information] → To "Kawamura Memorial DIC Museum of Art"