It is the text from here.
Hydrangea of the Narita city
Hydrangea garden of the Sogo Reido Sanctuary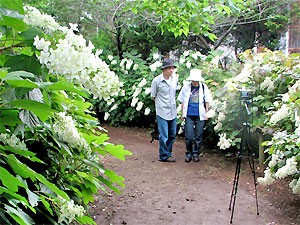 Various hydrangeas including Hydrangea macrophylla, the Hakuyou hydrangea are planted in the precincts spreading out in the Sogo Reido Sanctuary Omoto temple back including a convention hydrangea.
Hakuyou hydrangea is put on Sogo Reido Sanctuary more than 1,000 stocks and there are few places where only this is seen in with much Hakuyou hydrangeas and pleases the eyes of the tourist.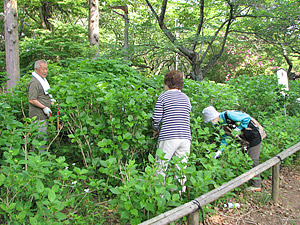 Prior to hydrangea Festival, the member of the "making of sightseeing spot including the Sogo district by the hydrangea tree planting" executive committee and Lions Club, a large number of people including all of All Nippon Airways Co.,Ltd. gather, and mowing of the hydrangea garden is performed every year.
Repair work of the hydrangea garden is carried out to make the flower that a hydrangea is still more beautiful bloom in January, 2010, and maintenance is still pushed forward continuously.
A stock grew big, and distance transplanted the hydrangea which became narrow, and a fence of the bamboo which ached was exchanged. A root becomes able to be set up relaxedly, and a hydrangea seems to be pleased.
In this way, in the hydrangea garden of the Sogo Reido Sanctuary, the numbers increased to 7,000 now while it was protected by the hand of citizens. The hydrangea garden lets coming people make the feeling that felt at ease. All of you go out by all means, too and would like to take a walk through the garden calmly while it is wrapped in a flower and green?
I come back to the top of the page
Flower hydrangea of the Narita city
In commemoration of the municipal organization enforcement 40th anniversary, "a hydrangea" was chosen to the flower which became the symbol of the Narita city which anyone was easy to get close in April, 1994 and was easy to cultivate.
Thereafter, Sogo Reido Sanctuary, everywhere of the Narita city including the Sakura No Yama Park park, hydrangea tree planting was carried out.
Would all of you like to do hydrangea circulation of the Narita city, too?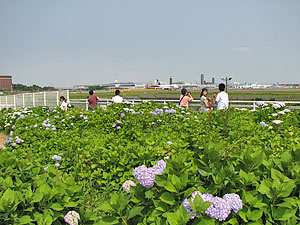 Hydrangea of Narita City Sakuranoyama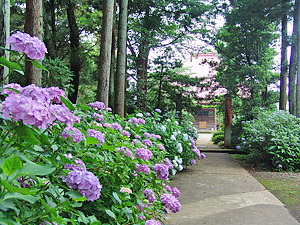 Hydrangea of 乗願寺 (as for doing it the bunch Seven Deities of Good Luck)