It is the text from here.
Furthermore, if I pray
Around the Narita city shop, there are a lot of Shinto shrine Buddhist temples having miraculous powers which are introduced by a guidebook.
On the New Year, would you like to pray?
Habu Jinja (Habu Shrine)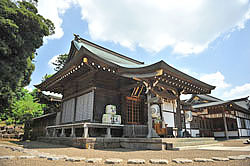 It is done with an opening that the earthenware maker (はじべ) whole families who mind communities in the times when the ground of Narita was still said to be a clayish land county now about 1,500 years ago, and make the unglazed earthenware (flip), and ran life worship 埴山姫命 which is their ancestral gods, patron saints and held religious service.
Popular name Sannomiya is said to be, but I seem to appear in the Tone River when Matsuzaki, Narita-shi, Ichinomiya are in Yakou, Sakae-machi, and Ninomiya rotates with Ichinomiya from Sannomiya. This Shinto shrine is built in the place that even Narita city is the highest, and turning seems to turn toward Ichinomiya, Ninomiya in due west.
994, Gobu, Narita-shi
TEL 0476-22-1254
Than access JR and Keisei Narita Station a 15-minute walk
http://www.habujinja.or.jp/ (External link)
I come back to the top of the page
Makata Jinja (Makata Shrine)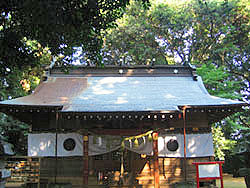 The Shrine of Makata Jinja (Makata Shrine) 18 companies in the Inba-gun city. The Shinto shrine name of each places of the whole country is listed in ancient book "Engi era type" (the Heian era), but is a venerable Shinto shrine so that therefore I am listed in the fourth.
There are 台方社 (a photograph calls it with the head office) and boat-shaped thing company (Okutsu shrine) and is said with a product of 伊都許利命 appointed by Emperor Ojin Era (the from the end of fourth century to fifth century beginning) by 印旛国造.
Diameter of a tree as measured at eye level length around the trunk 8m, 40m in height called 1,200 years in the main hall of the Makata Jinja (Makata Shrine) years old are worshiped as a guardian deity of longevity, the good luck charm in Osugi of a certain Toichi Seki, too. The forest of the Makata Jinja (Makata Shrine) is appointed in Natural monuments from Chiba, and I am admired as a sacred tree of the perpetual youth and longevity prayer in particular today, and much prayer is informed by the old days it as they were performed.
1, Daikata, Narita-shi
TEL 0476-28-5736
Access
From Narita City Office and Keisei Kozunomori Station community bus (Kitasuka route)
"Makata Jinja (Makata Shrine)" getting off about 20 minutes 200 yen for adults, 100 yen for children
http://www.makata-jinja.com/ (External link)
From Keisei Narita Station, Narita City Office
From simplified Japanese half-coat handing over, Sogo Reido Sanctuary
Narita
City hall
Of public Tsu
Forest Station
Sogo
Shrine
麻賀多
Shinto shrine
Simplified Japanese half-coat
Handing over
Simplified Japanese half-coat
Handing over
麻賀多
Shinto shrine
Sogo
Shrine
Of public Tsu
Forest Station
Keisei
Narita Station
Narita
City hall
6:50
6:55
6:58
7:04
6:20
6:32
6:41
6:48
─
─
8:15
8:30
8:35
8:38
8:46
7:10
7:22
7:31
7:38
7:51
7:53
11:29
11:44
11:49
11:58
12:10
8:55
9:07
9:16
9:23
9:36
9:38
14:33
14:48

14:53

※Very much

15:08
15:20
12:20
12:32
12:41
12:48
13:01
13:03
─
15:50
15:55
16:04
16:16
15:25
15:30
15:34
15:40
―
─
─
16:40
16:45
16:54
17:06
16:20
16:25
16:29
16:35
―
─
18:00
18:14
18:19
18:28
18:40
17:10
17:15
17:20
17:26
17:35
17:37
※Very much…It stops before Sogo Reido Sanctuary large size Parking
I come back to the top of the page
Komikado Jinja (Komikado Shrine)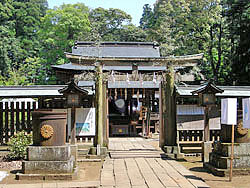 As for the Komikado Jinja (Komikado Shrine) (crowded a corner as for pitching a camp), the old shrine ranking is a special government shrine in a Shinto shrine in Narita-shi, Chiba (former Shimousa town). It is one company of 15 interest in Kenmu.
藤原師賢 which is an aide to Emperor Godaigo is worshiped.
師賢 is Mt. Hiei-zan for 1331 (Genkou 1), the Emperor Godaigo; of 討幕 raised an army (the Genko era Incident), but was arrested, and was drained into the Shimousa country in 1332, and was 32 years old three months later, and sank and, in the case of interest, was done 追贈 in Prime Minister in Kenmu, and was given a posthumous Buddhist name of 文貞公.
Because I became a victim of the Emperor Godaigo, as "God of the victim", it is said that there is benefit in road safety, health prayer and is believed.
On New Year's Day, a prayer of the New Year is performed with 0:00 a.m.
898, Nagoya, Narita-shi
TEL 0476-96-0449
It is ten minutes by car from access Metropolitan Inter-City Expressway Shimousa IC
http://komikado.or.jp/ (External link)
I come back to the top of the page
Namegawa Kannon dragon original hospital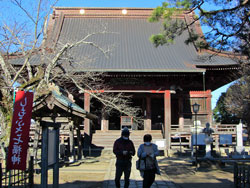 I am informed the Ryushoin Temple (Namegawa Kannon) got close to by a name of the Namegawa Kannon as 慈覚大師 did an open group in the 28th bill place of the Bando 33 Kannon hallowed ground in 838 (Jowa 5) in the peaceful early days.
I am known as life extension, a guardian deity of an easy delivery, the child care, and a sightseeing bus is linked every year in the 坂東札所巡拝 season of spring and summer, and a person of much prayer visits it.
In addition, I am rebuilt in the Muromachi era, and the Deva gate leaving a figure at the time in now is appointed to the important cultural property of the country.
1196, Namegawa, Narita-shi
TEL 0476-96-0217
It is about 15 minutes on foot from access JR Namegawa Station
http://www.namegawakannon.jp/index.html (External link)
I come back to the top of the page
Shibayama Niouson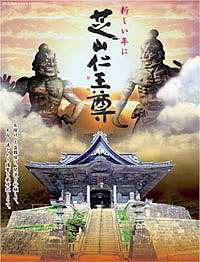 The foundation begins in Prince 征東大使, Tsugutada Fujiwara having laid 11 Goddess of Mercy God of War who is a guardian deity in state by an Imperial command of the Emperor Konin in terminal 781 (AD781 year) in the Nara era.
In the Middle Ages, I prosper as a prayer place of Chiba, and it becomes the cathedral putting an annex of 八十余宇 in the neighborhood. The sky stand temples of jurisdiction ten states (Dewa, Michinoku is added to the Eight Provinces of Kanto) were unified as the attendant head receipt temple which had the cause of the protection of Tokugawa shogunate government, formality of 100,000 koku when it was the Edo era.
In addition, it was got close by a popular name of "Nio" who was against a thief, and I got the ardent faith of fire fighter people and the merchant's family, and a fire was told, "there is not the shop (shelf) which did not worship a bill of Nio who was against a fire thief in a merchant's family of Edo" among the general public.
The seven regular buildings of a Buddhist temple including the triple tower of the prefectural Cultural properties compete for 甍 in the precincts of 10,000 tsubos and are full of people of much prayer for the benefit even today.
298, Shibayama, Shibayama-machi, Sanbu-gun
TEL 0479-77-0004 (main)
Access
Is a car than JR and Keisei Narita Station; about 30 minutes
From Shibayama-Chiyoda Station "contact bus" 20 minutes 200 yen for adults, 100 yen for children