It is the text from here.
A Narita Eel Festival elected candidate was decided in 2019
A lottery of the Narita Eel Festival which went from Friday, July 12, 2019 to 45 days of Sunday, August 25 was carried out in Narita Kankokan (Narita Tourist Pavilion) from 14:00 on Thursday, September 19, and 222 elected candidates were decided as a result of fair lottery.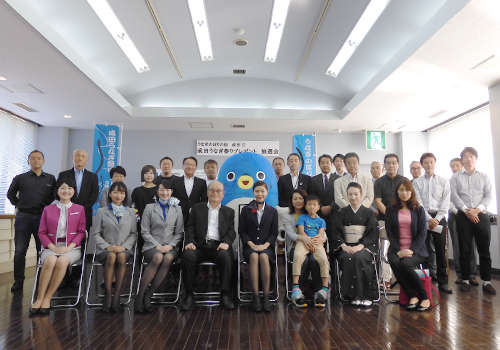 At this time that became the 15th, I had 21,212 application from the whole country.
Thank you very much for much application.
Please expect the next Narita Eel Festival.
FEEL Narita Narita Eel Festival
http://www.nrtk.jp/enjoy/shikisaisai/eel-festival.html
Elected candidate announcement of each prize
A prize B prize C prize D prize E prize Special prize
For A prize ANA travel coupon 200,000 yen, it is for each one person for JAL travel coupon 200,000 yen
It is one person for ANA travel coupon 200,000 yen
Eriko Tashiro (Chiba)
It is one person for JAL travel coupon 200,000 yen
Tomoko Sugawara (Chiba)
Around B prize Narita hotel and Japanese inns pair accommodation coupon 14 people
Narita View Hotel prize one person
Chika Sakai (Gunma)
Hotel Nikko Narita prize one person
Tomomi Miyata (Chiba)
Narita Airport Rest House prize one person
Hitomi Shiratori (Chiba)
Hotel my stays premiere Narita Prize one person
Kiko Sannomiya (Chiba)
ANA Crowne Plaza Hotel prize one person
Rio Kondo (Saitama)
Narita U- city hotel prize one person
Nobuyuki Hirano (Chiba)
Hilton Narita prize one person
Koji Matsumoto (Tokyo)
Marroad International Hotel Narita prize one person
Masanobu Sato (Kanagawa)
International Garden Hotel Narita prize one person
Junichiro Egoshi (Chiba)
ホテルウェルコ Narita Prize one person
Maki Tsukahara (Kanagawa)
Center hotel 1, Narita prize one person
Miyuki Nagata (Mie)
Center hotel 2, Narita R51 prize one person
Noriko Otani (Chiba)
Meat in Narita Prize one person
Akiko Haruyama (Chiba)
Ryokan Wakamatsu Honten
Yoshimi Yoshida (Saitama)
C prize Jetstar Japan, Peach Aviation, Spring Japan (Spring Airlines Japan, Inc.) pair coming and going airline ticket for each one person departing from and arriving at Narita Airport
Service "Narita - Shonai" new on Jetstar prize August 1 line pair coming and going airline ticket one person
Ken Higure (Chiba)
Domestic airline pair coming and going airline ticket one person of the Peach Aviation prize Narita International Airport departure and arrival
Mitsue Yano (Chiba)
Domestic airline pair coming and going airline ticket one person of the Spring Japan prize Narita International Airport departure and arrival
Takako Ishikawa (Hyogo)
Restaurant meal ticket 92 people of D prize Narita
Charles French Le Tempsdor (bowl of shaved ice with boiled adzuki beans Western-style restaurant) lunch B course pair meal ticket two people
Haruo Hirotomi (Ibaraki)
Tomohiro Aida (Chiba)
Kikuya Kikuya unaju (with soup) pair meal ticket two people
Yoshio Yuasa (Chiba)
Mayumi Akiyama (Chiba)
Multi-Tsu beauty bamboo steamer side (udon) + mini-unadon set pair meal ticket two people
篠永 りりこ (Chiba)
Ikuko Mizuno (Tokyo)
It is meal ticket two people for brocade valley 5,000 yen
Reiko Takabuchi (Chiba)
Shizue Igarashi (Chiba)
Lake Imba fishermen's cooperative association restaurant fisheries center 2,800 yen discount coupon (regular unaju) five people
Ritsuko Shimada (Chiba)
Kiyomi Sakakibara (Chiba)
Etsuro Endo (Chiba)
Shibata Chiken (Chiba)
Minako Nonaka (Tokyo)
It is meal ticket one person for Edo ッ child Sushi approach to a shrine head office 3,000 yen
Wataru Ogoda (Chiba)
Flower irregularity unaju meal ticket one person
Sora Inoue (Chiba)
3,000 yen ticket one person taken away of ぱん teahouse lunch or the bread
Shinobu Ito (Kanagawa)
Surugaya unaju or 鳥重 pair meal ticket 20 people
Kazuyuki Otsu (Chiba)
Yukio Yanagibashi (Chiba)
Ritsuko Moro (Ibaraki)
Momoyo Kawai (Saitama)
Kohei Kawamata (Chiba)
Toshiko Tsuji (Chiba)
Junpei Someya (Chiba)
Naoki Kaneoka (Chiba)
Kayoko Tsuchida (Ibaraki)
Shuichi Kiyomoto (Ibaraki)
Kiyoko Tanaka (Chiba)
Misako Matsumaru (Chiba)
Misako Kada (Chiba)
Shuji Sato (Chiba)
Yuto Koiwai (Chiba)
Katsuyuki Sakuma (Saitama)
Miyoko Nakamura (Chiba)
Michiko Sakuma (Chiba)
Yoshizawa みつ child (Chiba)
Teruko Abe (Chiba)
It is meal ticket three people for Hikataya Dainishiten 4,000 yen
Masayuki Motohashi (Chiba)
Asako Sato (Chiba)
Satoshi Katagami (Chiba)
It is meal ticket 22 people for Kawatoyo Honten 3,000 yen
Shozo Imai (Chiba)
Shiho Matsuura (Chiba)
Sachiko Hanaoka (Chiba)
Toshiyuki Suzuki (Chiba)
Yuko Watanabe (Chiba)
Etsuko Ishii (Chiba)
Eriko Saito (Chiba)
Fumiko Shishikura (Chiba)
Mie Takahashi (Chiba)
髙野喜美恵様 (Chiba)
Rika Kutsumi (Chiba)
Eiko Seki (Chiba)
Chisato Nakata (Chiba)
Shu Inoue (Chiba)
Hiroko Kadan (Chiba)
Norio Miura (Ibaraki)
Takeshi Kubo (Chiba)
Daisuke Kosaka (Chiba)
Fumie Koizumi (Chiba)
Kiko Nishikawa (Chiba)
Etsuyo Endo (Chiba)
Takuji Aikawa (Chiba)
It is unaju meal ticket three people in Kawatoyo Nishiguchikan
Yuma Teramoto (Chiba)
Taeko Sato (Kanagawa)
Ayako Shibazaki (Chiba)
It is meal ticket two people for Kuninoya 3,000 yen
Tanaka lotus state (Chiba)
Kotomi Yamamoto (Saitama)
Nisshin An unaju pair meal ticket one person
Kusu crane Atau (Chiba)
The Eddie Star Hotel Narita restaurant せらぎ lunch buffet pair meal ticket five people
Shrine Yumiko Saki (Chiba)
Kazuko Mizuno (Saitama)
Yasuhiro Hayashi (Chiba)
Setsuko Sanpei (Chiba)
Yasuko Iino (Chiba)
; is unaju two people of the soldier of the Imperial Guard boat-shaped thing shop again
Shiro Nonaka (Chiba)
Takao Ebato (Chiba)
Oumiya unadon pair meal ticket two people
Emiko Shimizu (Chiba)
Akira Nishimura (Chiba)
Manpukutei うなそば set pair meal ticket three people
Hiyori Hirooka (Kanagawa)
Hikaru Ebinuma (Chiba)
Ishida Genna state (Chiba)
Narita Tobu Hotel Airport lunch pair meal ticket one person
Yuichi Ozu (Kanagawa)
Hotel my stays premiere Narita lunch buffet pair meal ticket two people
Yoko Ugomori (Chiba)
Yoko Morita (Chiba)
Freshwater eel Shinkawa Head Office new Kawasaki Heavy Industries (pine) pair meal ticket five people
Saori Nozawa (Chiba)
西川典伽様 (Chiba)
髙橋良和様 (Tokyo)
Ishiwata Asako (Tokyo)
Kohei Kawasaki (Saitama)
Freshwater eel Shinkawa AEON TOWN Nairta Tomisato shop new Kawasaki Heavy Industries (pine) pair meal ticket five people
Sachie Ishiwata (Chiba)
Tomoo Suzuki (Chiba)
Yuto Sakano (Chiba)
Kunio Miyabe (Chiba)
Atsushi Tsunoda (Tokyo)
Specialty 88 people of E prize Narita
Narugeya Toki (Narugeya Pottery) bottle and cup set three people
Taeko Gokita (Chiba)
Hideyuki Otake (Saitama)
Oji Hashimoto (Ibaraki)
720 ml of wisteria shop long life Narita, Izumi miraculous water, two set five people of 720 ml of brewing sake from the finest rice pure mijiu
Hitoshi Inoue (Hyogo)
Miho Ito (Hyogo)
Yoshiko Kato (Chiba)
Hatsue Morikawa (Kanagawa)
Kuroki みつ child (Chiba)
特上千葉半立使用 (600 g of *2 300 g) one person proud of the taste of the peanut のきむらやさやいり Peanuts old days
Yoko Kato (Saitama)
Grated radish double tooth (ogre lowering) 17 tooth and saucer (hang) set five people made of bamboo, tree, canework Fujikura store bamboo
Nobuyuki Fukai (Tochigi)
Rock Marika Saki (Chiba)
As for Kiyomiya, a stick-like (Chiba)
Shuichi Yamazaki (Kanagawa)
Eiichi Komatsu (Ibaraki)
Three points of set three people of the 和光物産商会隈取 growl ① mobile accessory case ② drawstring purse ③ ball chain mascot
Eri Honma (Tokyo)
Kuniaki Ochi (Tokyo)
Yoneko Kuramatsu (Chiba)
Assorted Takahashi fisheries foods boiled down in soy (3,000 yen) five people
Kenji Yamanouchi (Chiba)
Atsuko Osone (Ibaraki)
Masakazu Nakao (Chiba)
Tomoko Morimoto (Kyoto)
Satoshi Ishikawa (Chiba)
Three kinds of rice dealer Chiba circulation 24 filling five people
Masanobu Nakamura (Hyogo)
Hiroshi Hiramitsu (Chiba)
Shohei Tamada (Tokyo)
Mai Tanaka (Iwate)
Yurie Murakami (Chiba)
Akiba ranch ranch original ice small cup 12 set three people
Sato Akimi (Miyazaki)
Noriko Suenobu (Tokyo)
Mayumi Suzuki (Ibaraki)
Miyata Parking Lot みやた store souvenir set three people
Shinya Higuchi (Chiba)
Takashi Koibuchi (Saitama)
Homare Tanii (Kanagawa)
It is two people for 3,000 yen in the beef pork for the Namekawa-ya roasted meat
Yuki Takahashi (Tokyo)
Nobuo Tanno (Miyagi)
Yonebun Japanese confectionery assortment fold ((life) chestnut steaming yokan, chestnut grain and others, Rice crackers) one person
Ryoichi Hirai (Ibaraki)
Souvenir shop Sabonsama Sabonsama <tortoise> かぼすの fragrance ten people
Naoko Matsui (Chiba)
Kai Mizoguchi (Saitama)
Hiroshi Ogura (Chiba)
Ayami Sato (Tokyo)
Mie Ukaji (Tokyo)
Hiromi Ishikawa (Chiba)
Hatsue Onodera (Tochigi)
Kiyoko Ogawa (Chiba)
Last Mayumi Saki (Chiba)
シロカネサクラ (Chiba)
Assorted Narita Yanagiya Honten willow shop yokan three people
Ota noble (Tokyo)
Mitsuyo Fujio (Chiba)
Yasuko Sakuma (Chiba)
Private elementary school of the Edo period Narita Yuzen couple chopsticks gift three people
Hidetoshi Inoue (Tokyo)
Yusuke Nakano (Chiba)
Misako Kenmochi (Tokyo)
Five people soaked in a Takasho Honten gun
Chiaki Ueno (Chiba)
Mieko Hosaka (Chiba)
Satoe Tanaka (Chiba)
Keiichi Yasuoka (Chiba)
Tsuneo Kimura (Chiba)
Warehouseman Food and drink pan shop source five gate-guard office size brewing sake from the finest rice Hanayama water growl label & large brewing sake from the finest rice Hanayama water liquor cake set three people
Iwao Kimura (Chiba)
Kyoko Senoo (Ibaraki)
Hiromi Kadokura (Chiba)
The village sesame of the greens flower is not blackened; is set three people of ピーナッツラングドシャ sizzlingly
Akiko Fuse (Chiba)
Mitsumasa Ono (Chiba)
Eri Suzuki (Kanagawa)
Assorted Kawamura Saheiji Shoten Pickles three people
Nakajima temper (Gunma)
Atsuko Kobayashi (Chiba)
Shuji Takeda (Kanagawa)
Assorted Sawada Pickles Pickles five people
Nakamura result child (Ibaraki)
Tomohiro Aburada (Kagoshima)
Takako Tomita (Saitama)
Taro Kashima (Saitama)
Mieko Amano (Chiba)
Circle Miya IGNIS garden liquid shower (washing charges for the body) four people
Remi Kuramae (Chiba)
Hisayoshi Yonehara (Kanagawa)
Chieko Yamamoto (Chiba)
Kisako Kurata (Tokyo)
One person with 800 g of Kiuchi Yakkyoku newbie *8
Kunio Nakata (Ibaraki)
; is dish simmered in helmet and candied fish two colors two people of the soldier of the Imperial Guard Freshwater eel again
Kazuyo Suzuki (Chiba)
Takeshi Ishii (Chiba)
Three people including the Ishikawa Bussan Narita Airport character "クウタン" sewing (extra-large)
Sakurai さちこ (Chiba)
Toshiko Onishi (Chiba)
Hitomi Nagao (Shiga)
Hasegawa Gofukuten (Hasegawa Clothing Store) indigo dyeing diaphragm cross (indigo blue), dyeing with vegetable dyes diaphragm cross (yellow ocher) two people
Hisayo Kanazashi (Shizuoka)
Machiko Kubota (Shizuoka)
Go over 日翔千葉県産新米, and shine; 5 kg
髙屋美孝様 (Hokkaido)
Masako Watari (Kanagawa)
Kazuhiro Shitaya (Chiba)
Tetsuya Kobayashi (Nagano)
松島萌乃様 (Tokyo)
Special prize 23 people
It is one person for Narita Japanese inns hotel association coupon 10,000 yen
Noriko Kimura (Chiba)
Narita HUMAX Cinemas Narita HUMAX Cinemas pair theater "フタリウム" pair appreciation ticket one person
Masao Shishikura (Chiba)
Assorted Narita International Airport NAA goods set five people
Fumie Osanami (Tokyo)
Hiromi Mitsudera (Chiba)
Kenji Kawashima (Chiba)
Yoichi Kawai (Saitama)
Ayumi Umeda (Chiba)
It is five people for AEON MALL Narita ion gift certificate 3,000 yen
Katsushi Kobayashi (Saitama)
Masako Okada (Ibaraki)
Setsuko Kodera (Kanagawa)
Mikiko Wayama (Chiba)
Shota Ichikawa (Tokyo)
It is five people for SHISUI PREMIUM OUTLETS SHISUI PREMIUM OUTLETS gift certificate 2,000 yen
Takada as for seeing it a state (Chiba)
Takeshi Kuroda (Chiba)
Ikuko Ishizawa (Kanagawa)
Ability place glory state (Tochigi)
Yoshiko Yamaguchi (Saitama)
Ishikawa auto industry Ishikawa auto industry car, light car oil exchange ticket one person
Hiroko Imai (Tokyo)
Entering 1 case of coca コーラボトラーズジャパン Azuma Chiba Branch Narita residence Coca-Cola slim bottle Chiba design 24 five people
Takako Suzuki (Chiba)
イジミン (Tokyo)
Ritsuko Tsuruoka (Chiba)
Yuri Furukawa (Kanagawa)
Rie Komori (Kanagawa)