It is the text from here.
Volunteer guide
A sightseeing volunteer guiding the whole country visiting the Narita city and a foreign tourist is introduced. Including Naritasan Shinshoji Temple, the highlight and a benefit spot of the Sogo Reido Sanctuary (鳴鐘山東勝寺), the knowledge-rich expert staff shows around a famous place, the historic site around the Narita city. Charm of deep Narita can be mentioned while enjoying a conversation and contact so as to know it if it is known.
Let's walk with free Volunteer guide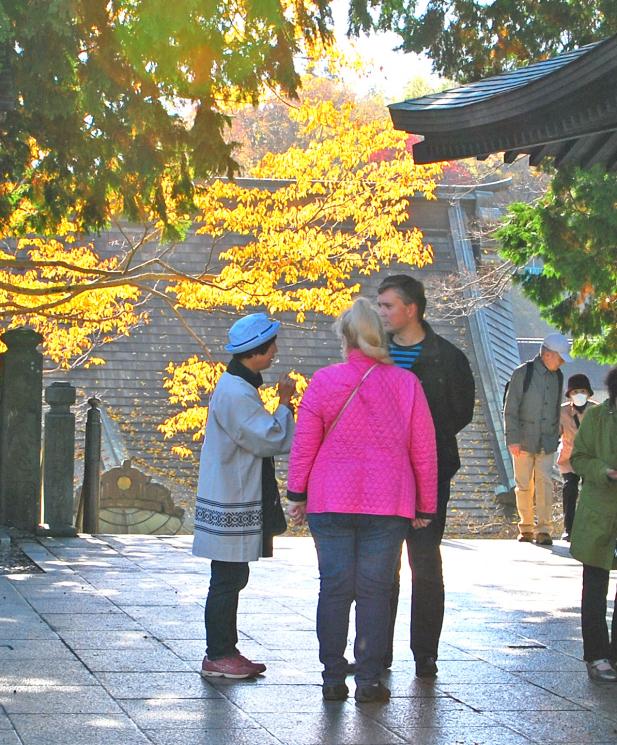 In the precincts of the Naritasan Shinshoji Temple, benefit such as luck with money and work luck, matchmaking is spotted. There is a lot of highlight including the Buddhist monastery of the country-designated important cultural property and the Naritasan park full of nature.
How about enjoying walk with all of Volunteer guide guiding the precincts free?
The expert staff shows around the highlight and the benefit spot of the precincts by abundant knowledge in detail.
Guide time is from 10:00 to 15:00 every day. I register in the Volunteer guide receptionist place in the open space before the Daihondo Hall. In the case of the use in the group, it is recommended making a prior reservation.
Guidance place
Naritasan Shinshoji Temple, Sogo Reido Sanctuary
Guidance time
From 10:00 to 15:00
(I take a rest for the training for 25 days a month)
Reception desk place
Volunteer guide receptionist place in the open space before the Naritasan Daihondo Hall
Reservation
As a general rule, is unnecessary, but of in the case of the group of a great many people and the Sogo Reido Sanctuary when wish to guide him, please contact me beforehand.
Inquiry, reservation reception desk
Meeting of the Narita Volunteer guide
TEL: 0476-22-2111 (main) 541 (extension)
FAX: 0476-23-1661
〒286-0023 1, Narita, Narita-shi, Chiba Naritasan Shinshoji Temple believer Hall